by: Mark Cahill
Posted on: Sunday, August 17th, 2008 at 10:54 am
by: Mark Cahill
Comments (0)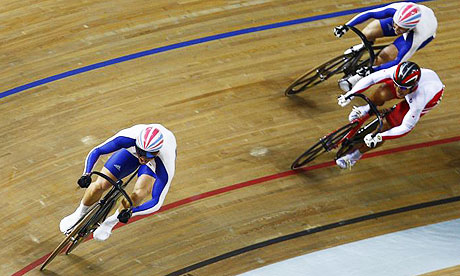 Chris Hoy of Great Britain in the closing 300 hundred meters of the Men's Keirin to grab his third Olympic Gold Medal (his second in this Olympiad after capturing in Team Sprint the previous day).   That';s quite an acheivement when you consider his marquee event was dropped from these Olympics.  From The Times (a great article on the victory):
The world governing body for cycling has dropped that event from the Olympic programme and Hoy was left without his specialist event. He switched to the keirin, a race that would take him away from the safe sport of racing against the clock and into the maelstrom of track sprinting. He had to learn and fast. He did so remarkably well, adapting better than even he expected and in his last 29 keirin races, he has lost just one.

To make the race his, he had to redefine it and perhaps that has been the single greatest feat in track cycling in the past two years. At its simplest, the keirin is a 2000m track race which begins in earnest when the pacing derny peels off the track with 625m to go and allows the riders to take it from there. Traditionally, it involved a brilliant tactical finale because no one wanted to lead until well into the final lap of the two-and-a-half lap burn-up. So there was much jockeying for position and tactical manoeuvring as every rider tried to play his card last. The premium was brilliant bike handling and nerveless decision-making.
Similarly, Britain Rebecca Romero took a second gold in Women's Individual Pursuit. From CNN:
Romero's was Britain's fourth gold of the five events decided so far at the Laoshan Velodrome. Lesya Kalitovska of Ukraine took the bronze.

"I've done what I said I was going to do. I knew it was going to be the toughest race of my life. I hope I'm not going to wake up," said Romero, who becomes the first British woman to take Olympic medals in two different sports. She won a silver medal in rowing in 2004.

Romero had feared her Olympic dream was gone when she arrived in Beijing and in training recorded the slowest time she'd set all year. But she "faced the demons again" and came through for victory.
And in yet another stunning victory for Great Britain, Bradley Wiggins pulled down the Gold Medal for Men's Individual Pursuit. From Reuters:
Cyclist Bradley Wiggins won the Olympic gold medal in the men's 4km individual pursuit on Saturday, beating New Zealand's Hayden Roulston in the final to retain the title he won in 2004.

Steven Burke made it a gold-bronze double for Britain after he picked up his speed in the final rounds of the bronze medal match to edge out Russian Alexei Markov.

Wiggins, who had set an Olympic record in the qualifying rounds on Friday, had a huge smile on his face as rode up to the stands to hug and greet some supporters before he set off on a victory lap.
Spain also came up with more Olympic Gold when JoanLlaneras grabbed the medal for the Men's Points Race.  From CNN:
Medal favorite Joan Llaneras of Spain won a gold medal in track cycling on Saturday, claiming the unique men's points race event.

The 39-year-old Llaneras, who plans on retiring after the Beijing Olympics, won three of the 16 intermediate sprints around Laoshan Velodrome — they occur every 10 laps in the 160-lap race — and earned points by placing in the top four three other times.
Get even more Cycling coverage from the Olympics here…nbcolympics.com cycling news page.